My goal has been to continue to help keep our heritage alive. Those of us that have been raised away from our "homelands" must actively seek information since it's not readily available to us through a network of elders.
Oh, how I wish I'd spent more time listening to my Grandparents! (photo is of my Grandparents of the Delorme family).  I've been searching for written accounts of our history and have been relying on my Auntie Lilly to share her recollections. I had the pleasure of meeting Mr. Dan Jerome the same year of his induction into the Native American Hall of Honor. He made a state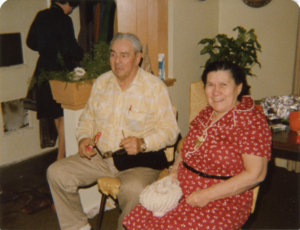 ment that struck me: "We need to know where we come from". And that is what I've been seeking – stories of our origins. The more I learn – the more I want to know! I feel so very fortunate to have the time and ability to be doing this research. Thanks so much for joining Pemmican Patty on this adventure!