In Ja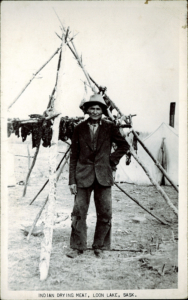 nuary snow gathers deep in the woods and the howling of wolves can be heard echoing in the cold still air. Trapping and fur trade have been a part of the indigenous culture for centuries, first among each other and later with French and European fur traders. I have distant memories of my Grandpa Pete as well as my dad and brother during trapping season.
As this is the time of year for storytelling, I'd like to share a few words from my brother Mike (shown in photo): "The first (trapping) memory that comes to mind is when I was running my trap line in the Badlands on Thanksgiving Day.  I seldom saw anyone else in the area where I trapped, which was especially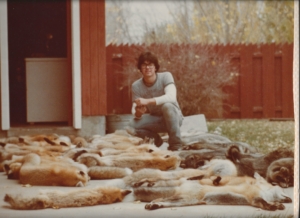 true on this particular day.  When I was about as far back into the remote wilderness, it began to snow.  The road quickly filled to a point where I was starting to get concerned about making it to the highway.  On my last stop, I caught a coyote.  After resetting the trap, I got back into my truck to hightail it to civilization only to discover that my truck wouldn't shift into gear.  Not being much of a mechanic, I opened the hood and didn't see anything out of place.  So, in a last-ditch effort to see what might be wrong, I looked under the truck and saw that the drive shaft was separated into two parts.  Right in the middle of the two parts, I noticed a small cotter pin.  I decided to try connecting the two pieces of the drive shaft with the cotter pin in hopes that this would solve my dilemma.  It did.  I had much to be thankful for that Thanksgiving Day.  I made it out of the Badlands safely and ended up catching three coyotes and a badger.  However, I've never ventured into the Badlands on a holiday since that time."
We're sure that the angels (and our spirit relatives) were looking over him that day, foreseeing that he'd someday be a huge part of the Pemmican Patty partnership!