Pemmican Fuels Outdoor Enthusiasts for Generations
For ma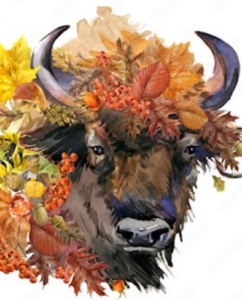 ny centuries, pemmican has provided nourishment for outdoor enthusiasts of all kinds. Traditionally, pemmican is comprised of a mixture of dried, ground meat and rendered fat (tallow). When available, berries and other natural ingredients were also added for flavor.
In the spirit of the Metis culture, Pemmican Patty's Bisonberry Blends are meant to help connect us with our past through Native foodways and nutrition. While we were blending tastes & traditions, we made every effort to stay true to ingredients available to our ancestors. We begin with a blend of bison and 100% grass-fed beef, both raised without antibiotics or added hormones. Berries native to Turtle Island add nutrition and flavor. Mineral-rich sea salt and a touch of maple sap-water help to start the curing process. Our bison-beef & berry bars are then slow roasted & naturally smoked to create a tender protein bar similar to the pemmican of the past.
Bisonberry Blends were formulated to provide healthy options for people with pre-dispositions to diabetes, obesity, heart health and dental issues. The lifestyles and diets of our ancestors kept those conditions in check. Today, we celebrate the opportunities to honor them by choosing to nourish our bodies and spirits in a good way. Each ingredient used in our products have been researched thoroughly. We considered their source, sustainability, connection to our culture, and health benefits. Real food for the outdoor enthusiast, busy parent, or nutrition-conscious individual of every age.
A limited number of "Blueberry with Sage" bars are now available. Please contact info@pemmicanpatty.com for details.
Made properly, pemmican could be made to last indefinitely, as well as with high enough quantities to sustain an individual for months. Historically, it was sometimes used as a soup base, but most often, it was simply chewed on like a piece of jerky.
Using clean, natural ingredients, Pemmican Patty Food Company is bringing a modern-day version of pemmican to provide flavorful nutrition wherever your active life takes you!