A minimum order of 100 bars is required for wholesale pricing.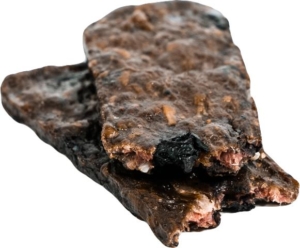 For $320, plus shipping, you'll be mailed 100 Bisonberry Blends in one of two flavors (blueberry and cherry). You can choose to receive a full case (100 bars) in only one flavor or split the case into a half case (50) of each flavor.
Wholesale pricing plans equate to $3.20/bar. The suggested retail price ranges from $4.75 – $5.00/bar, however, every retailer is free to establish their own pricing policy. Please contact us to discuss your unique needs.
BISONBERRY BLENDS
These bars have been formulated to provide healthy options for all individuals, especially those whose diets require low sodium, low sugar, or gluten free options. Each ingredient used in our products have been researched thoroughly. We considered their source, sustainability, connection to our culture, and health benefits.
Superfoods are nutrient-rich items that help promote a healthier lifestyle. Our products have been designed with that in mind. We believe that the ingredients we're using meet the Superfood criteria. We begin with a blend of bison and 100% grass-fed beef, both raised without antibiotics or added hormones. Berries native to Turtle Island (North America) add nutrition and flavor.
Mineral-rich sea salt and a touch of maple sap-water help to start the curing process. Our bison-beef & berry bars are then slow roasted & naturally smoked to create a tender protein bar similar to the pemmican of the past.
Maple sap-water is unique to our bars. It is known to be good for digestion, stabilizes blood sugar, fights inflammatory diseases, low in natural sugar & calories and full of electrolytes (potassium, magnesium & calcium).
Bisonberry Blends Bison-Beef and
Blueberry with Sage
Blueberries are rich in antioxidants and Vitamin C, boosting immunity. Regular use may help reduce the risk of diabetes, obesity & heart disease. Traditional "good medicine" of sage (anti-inflammatory) provides additional unique flavor too!
Bisonberry Blends Bison-Beef and
Cherries with Chipotle
Dark cherries are rich in antioxidants and anti-inflammatory compounds and may help reduce chronic disease risk. Regular use may boost heart health, improve sleep, and promote overall health. Cayenne is known to boost metabolism and may aid in digestive health & lowering blood pressure. Chipotle enhances the flavor with a smoky kick!
For more information or to place an order,
call us at 701-226-4529 or send an email to info@pemmicanpatty.com.