Sampler Pack – Most Popular (4 pack with 1 of each flavor)
$36.00
Handcrafted Beef Jerky (4 pack – 1 unit of each flavor)

If you'd like to try all of our flavors, we encourage you to order a sampler pack of 4, which include 1 unit of each flavor. Our handcrafted jerky is made from single solid strips of premium brisket beef. Jerky is high in protein which makes it an ideal addition to your diet – snack on any of our four flavors in between meals to help drop those last couple pounds! No additional preservatives added to make sure you get the best of what a brisket beef jerky can offer. Gluten concerns? We have two flavors completely gluten-free – ideal for people who have dietary concerns.
Boozhoo (Hello) Bar-B Jerky
Boozhoo is a shortened phrase originating from a traditional Native greeting connected to the eventual return of Nanaboozhoo (original spirit). Say hello to our smoky barbeque flavor brisket strips! They're sweet, spicy, extremely low in sugar and gluten free too!
Rougarou (Monster) Pepper Jerky
Look out! The jalapeno might catch up to you just like the Rougarou creature in the stories of our ancestors! The sweet, smoky flavor is enhanced with cayenne, bringing health benefits with a good bit of heat!
Metis Style Orange Teriyaki Jerky
Just as Metis people are a blend of the best of both English and First Nation cultures, so is this favorite flavor combination of peppered orange teriyaki jerky. A gluten free and surprisingly low in sugar protein snack with a hint of heat.
Turtle Island Fusion Jerky
Turtle Island is the Native name for (earth) North America, around which many creation stories originate. Enjoy the naturally sweet flavors of brown sugar, pineapple, and mango in this mild, low-in-sodium protein snack.
Introductory Offer: Use coupon code FREESHIP for free shipping on your first order of a quantity of one (1) sampler pack.
Pride of Dakota Member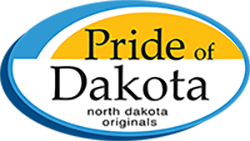 Our Location
Pemmican Patty Food Company, Inc.
1003 Gateway Avenue
Bismarck, ND 58503